Konmari Papers – Konmari Paper Purge, Organization & Declutter
If you are searching for easy and efficient ways to declutter your home, you might have heard about the new Konmari trend of organizing things.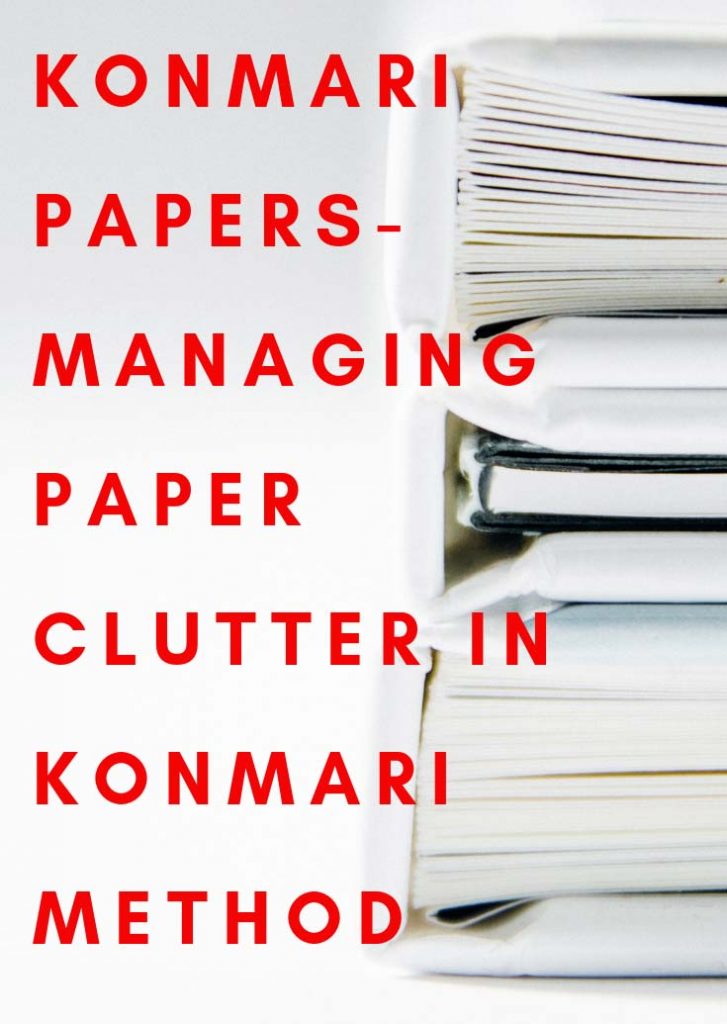 The konmari method by Marie Kondo has become so popular and trendy and it is efficient, easy to do and helps you to declutter your home pretty easily if you understand the method and apply it in your life, though you should also consider your personal preferences while doing so.
With regards to paper clutter, the Konmari method advises to throw away the papers. And the Konmari method also ask you to ask yourself this question before you decide to keep something "Does this sparks joy?" If the item in question doesn't spark joy anymore, you have to thank it (which is a very good practice that brings you peace as you get ready to let it go) and let it go.
So if you have a lot of paper that you are unsure what to do with and if you want to deal with them in the Konmari method, you have to get ready to throw a lot of them (of course after you thank them as you used them once).
However, be sure those are papers that you can really throw off. Because, when it comes to papers, there can be a lot of important papers, which you can't or which you shouldn't throw off.
Important Papers
For example, important papers that are documents, which you might need in your life or you can be in trouble if you lose them. So collect the important papers that you need, including any bills, documents, reports, photos etc organize them all in different files after you categorize them. Do not throw them away.
There are different kinds of useful files for storing papers and they are a lot more helpful than I once thought they would be. So make sure you save all the important papers that you need in your life, categorize and organize them in different files.
Next comes the papers that carry some sentiments.
Sentimental 
We all have some papers that may not be practically useful anymore, still we wish to keep them as they are attached with memories. For example, the greeting cards exchanged between family members, any paper gifts given to us, our children's paper crafts, children's school work, drawings, paintings etc. Some of those we really don't want to let go off. However we may not be able to keep them all throughout our life as well.
For example, if your children do a lot of paper craft (mine like to do all the time), you may keep a few of those, but it will be really tough to keep them all. Also, a lot of papers come from school which shows your kids work in school. In those cases, select a few from each year, which you want to keep, and assign a file or folder for each year (and each kid). That way you do not have to get the most important ones to you, but there will be a lot which you can actually throw off.
Following the Konmari method, you hold those papers, thank them and let them go peacefully. Organize the few selected ones in different folders which will help you to keep them safely.
Also if you are attached to the greeting cards and paper gifts you have received (if any of them spark joy to you) you may keep them separately, organized. Thank and let go off any that doesn't spark joy anymore, but also make sure you don't need those anymore to avoid any troubles.
I do have a lot of papers at home, that come in the form of mails, from kids' school, the paper crafts my kids do at home (they do a lot!) so I can't keep them all even if I wish to. We all also have important papers like documents, bills, medical reports, other reports, photos, prints etc which we have to and want to keep.
So what I would recommend is that, follow the principles of Konmari method for managing your paper clutter, but it may not be practical or ideal to follow it completely since you cannot or shouldn't throw away important papers that you will need. To manage the paper clutter, categorize and organize any important papers and any sentimental ones that you want to keep, and then follow the Konmari method for the remaining papers that do not spark joy anymore (I am sure you will have a lot still, I sure do!) by thanking them and letting them go.
Hope you found this post on Konmari papers helpful in organizing and purging any paper clutter you may have at home.